Waiting on Wednesday: The Ruby Circle (Bloodlines #6) by Richelle Mead
Waiting on Wednesday is a weekly meme hosted by Breaking the Spine
that spotlights upcoming releases that we're eagerly anticipating.
This weeks book that I'm desperate to get my hands on:
The Ruby Circle (Bloodlines #6) by Richelle Mead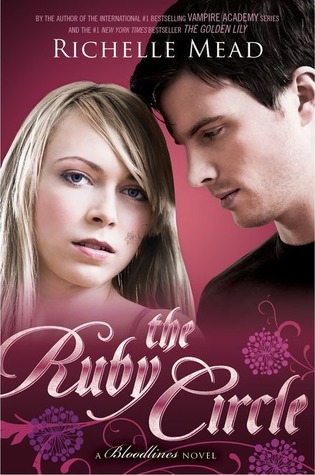 Publication: February 10, 2015
Genre: Young Adult, Paranormal Romance, Urban Fantasy
Goodreads Summary
The epic conclusion to Richelle Mead's New York Times bestselling Bloodlines series is finally here...

Sydney Sage is an Alchemist, one of a group of humans who dabble in magic and serve to bridge the worlds of humans and vampires. They protect vampire secrets—and human lives.

After their secret romance is exposed, Sydney and Adrian find themselves facing the wrath of both the Alchemists and the Moroi in this electrifying conclusion to Richelle Mead's New York Times bestselling Bloodlines series. When the life of someone they both love is put on the line, Sydney risks everything to hunt down a deadly former nemesis. Meanwhile, Adrian becomes enmeshed in a puzzle that could hold the key to a shocking secret about spirit magic, a secret that could shake the entire Moroi world.
Why I'm desperate for The Ruby Circle:
If you didn't know Sydrian is my life and I can never get enough of them and I'm practically sobbing as I'm writing this because their story is finally coming to an end. (Anyone have a tissue?) They've been through a lot together and I feel so desperate to read the final book but at the same time I don't wanna read it because then that's it. No more Sydrian. I could always go back and reread but it wouldn't be the same. By the way if you haven't read the series you're totally missing out, the books are just so beautiful and I *blows nose* just can't help myself.
Sydrian = Life fulfilled
What books are you desperate to get your hands on? Leave a comment with your link of WoW and I promise to check it out and fangirl over your books with you as well! Thanks for stopping by!