The Sea of Monsters (Percy Jackson and the Olympians #2) by Rick Riordan Review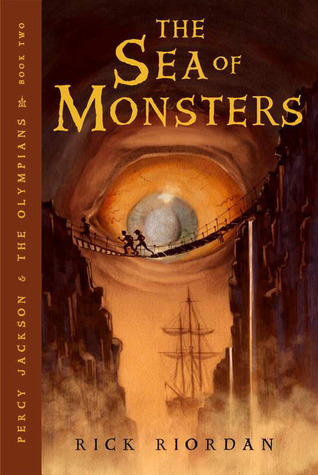 Series: Percy Jackson and the Olympians #2
Publisher: Disney Hyperion Books
Genre: Young Adult, Adventure, Greek Mythology, Urban Fantasy
Release Date: April 1, 2006
Pages:288
Goodreads Summary
The heroic son of Poseidon makes an action-packed comeback in the second must-read installment of Rick Riordan's amazing young readers series. Starring Percy Jackson, a "half blood" whose mother is human and whose father is the God of the Sea, Riordan's series combines cliffhanger adventure and Greek mythology lessons that results in true page-turners that get better with each installment. In this episode, The Sea of Monsters, Percy sets out to retrieve the Golden Fleece before his summer camp is destroyed, surpassing the first book's drama and setting the stage for more thrills to come.
I'm gonna be truthful you guys I always have trouble starting the second book of a series because I'm always scared I'll end up hating it even though I loved the first book. I've done that with a lot of other series which I'm probably never gonna go back to but with the Percy Jackson series I didn't even have to worry at all right from the start of the second book I knew I was going to love it. I'm sad to say though that I finished this book in less than a day. It was extremely enjoyable and I felt like it was way too short but I can't help loving it anyways.
The characters were just as amazing as in the first book, Percy and Annabeth were totally awesome though they did argue a bit at the beginning it didn't last very long not when their friend Grover was in trouble. By the way speaking of Grover I found the part of him getting married to Cylclops Polyphemus hilarious. I could totally picture him in all his wedding getup!
Oh and Riordan decided to add a new character to the series, ladies and gentlemen please welcome Tyson Percy's Cyclops brother whom I couldn't help but find adorable. Tyson became another favorite of mine, I found him so adorbs but he was also strong and protected Percy when he needed it which I found so cute brotherly love *sigh* the feels. This series is definitely becoming a favorite of mine but I'm trying to tone down my reading a bit because at this rate I'll finish it way too quickly and then I'll probably be feeling Percy Jackson withdrawals.
Overall this series is beloved by all and me as well so if you haven't started it you're definitely missing out and you need to start it stat. Like right now! This series is filled to the brim with a wonderful cast of characters that'll take you on the ride of your life!
Rating: 4 stars