Emissary (Legends of the Realm #1) by Thomas Locke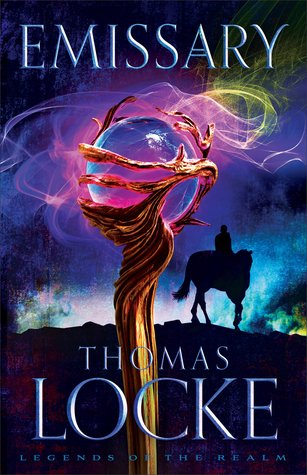 Series: Legends of the Realm #1
Publisher: Fleming H. Revell Company
Genre: Young Adult, Adventure, Fantasy, Christian Fiction
Release Date: January 6, 2015
Pages: 385
Goodreads Summary
Hyam is a likeable lad who will make a fine farmer someday. But he carries a burden few can fathom. As his mother slips toward death, she implores him to return to Long Hall, where he spent five years as an apprentice. It was there that Hyam's extraordinary capacity for mastering languages came to light--and soon cast him into the shadows of suspicion. How could any human learn the forbidden tongues with such ease? When Hyam dares to seek out the Mistress of the Sorceries, her revelation tears his world asunder.
He has no choice but to set out on the foreboding path--which beckons him to either his destiny or his doom. An encounter with an enchanting stranger reminds him that he is part hero and part captive. As Hyam struggles to interpret the omens and symbols, he is swept up by a great current of possibilities--and dangers.
My Review
I received this book through Revell Reads in exchange for an honest review.
Emissary had the perfect blend of fantasy and adventure but I wasn't that invested in it until I came to the first half of the book. The world building was what grabbed me the most, it was what kept me flipping the pages with its beautiful imagery not the character's which are always a hit and miss for me. I've always loved a good adventure and Emissary did not let me down but what did were the characters. I could not bring myself to care for any of them except maybe Joelle and even then I wasn't sure.
Hyam is the main character and yet I could not connect with him at all. I was reading through his perspective and yet nothing about him really compelled me to care much about the struggle he was going through. He felt flat to me, and the only thing that made up for it was Joelle whom he didn't meet until halfway through the book. He didn't seem alive until her character showed up which did help matters. I felt like the only thing that saved the book was the wonderful world building which I'm grateful for.
The romance aspect of the book also felt a bit forced to me. I couldn't come to really care for it and in fact I felt like the book didn't even really need the romance, I felt like Joelle and Hyam could have just ended up being friends but maybe that's just me.
This book was more fantasy than romance so if that's what you're looking for then you should check this book out!
Rating: 3 Stars