Princess of Thorns by Stacey Jay Review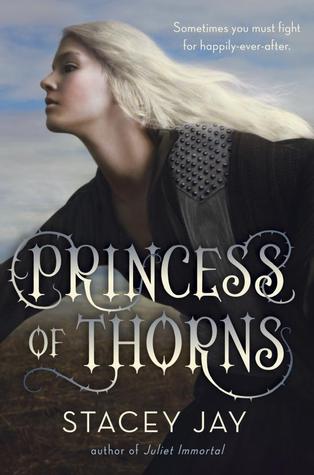 Publisher: Delacorte Press
Genre: Young Adult, Fantasy, Romance, Retellings, Adventure
Release Date: December 9, 2014
Pages: 400
Goodreads Summary
Game of Thrones meets the Grimm's fairy tales in this twisted, fast-paced romantic fantasy-adventure about Sleeping Beauty's daughter, a warrior princess who must fight to reclaim her throne.
Though she looks like a mere mortal, Princess Aurora is a fairy blessed with enhanced strength, bravery, and mercy yet cursed to destroy the free will of any male who kisses her. Disguised as a boy, she enlists the help of the handsome but also cursed Prince Niklaas to fight legions of evil and free her brother from the ogre queen who stole Aurora's throne ten years ago.
Will Aurora triumph over evil and reach her brother before it's too late? Can Aurora and Niklaas break the curses that will otherwise forever keep them from finding their one true love?
My Review
I admit that at the beginning of Princess of Thorns I debated on whether or not to drop this book. But you know what? I'm glad I didn't because as much as some of the character's infuriated me
, I still found myself enjoying this book. I especially loved how Stacey Jay incorporated other fairy tales that I know and love and twisted them
(*coughs* The Wild Swans and Rapunzel).
Aurora is the daughter of Sleeping Beauty who died giving her fairy gifts in order to protect her from the evil Troll Queen not knowing the full extent of these gifts. Now Aurora's stuck with enhanced strength, bravery, and mercy (which to me sounds waaay more useful than beauty and elegance) but the downside is that she's also cursed to take the free will of any male that kisses her.
Although I loved how strong and dedicated to her loved ones Aurora was, after all in order to rescue her brother Jor she decides to dress like a boy and gather an army. A
t times she also made me want to throw the book across the room, (I didn't because it's a borrowed library book) she had some serious trust issues and made some really stupid and selfish mistakes. But that just made her a realistic and flawed character which I seriously enjoyed!
And on to Niklaas the infuriating love interest who is set on marrying Aurora because he also has a nasty curse that will come to pass unless he marries a princess before he turns eighteen. I'll be honest as much as I loved Niklaas he also made me want to smack him so much because of the things that came out of his mouth and how narcissistic he was. But of course he does grow as a character which made me appreciate him more but SERIOUSLY how could he not tell Aurora was a girl. He even questioned how girlish she was and there were SO many signs I mean come on! But their friendship that slowly bloomed into love totally made up for it, so I'm not complaining.
Princess of Thorns is full of action, adventure, character development, romance and so many secrets and curses that just made me enjoy it even more. And although close to the end it fell like everything fell into place rather easily, I didn't mind so much. I'm glad everything turned out well!
Rating: 4 stars