Velvet (Velvet Trilogy #1) by Temple West Review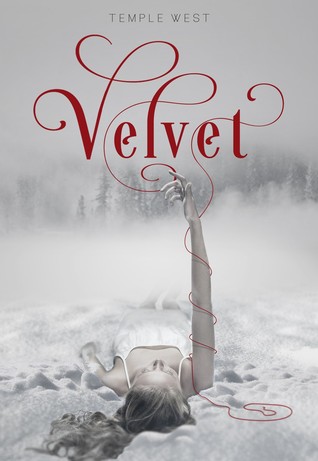 Series: Velvet Trilogy #1
Publisher: Swoon Reads
Genre: Young Adult, Vampires, Paranormal Romance, Fantasy
Release Date: May 12, 2015
Goodreads Summary
First rule of dealing with hot vampire bodyguards? Don't fall in love.
After losing both her parents before age seventeen, aspiring designer Caitlin Holte feels like her whole world has been turned upside down, and that was before the terrifying encounter with a supernatural force. Then, she learns that her hot bad-boy neighbor, Adrian—who might have just saved her life—is actually a half-demon vampire.
Suddenly Caitlin is stuck with a vampire bodyguard who feels that the best way to protect her is to become her pretend boyfriend. Trouble is, Caitlin is starting to fall in love for real, while Adrian can never love a human. Caitlin trusts Adrian to keep her safe from his demon father, but will he be able to protect her heart?
I'm in love, you guys! Head over heels in love! Velvet has everything! A swoon worthy vampire, a straight-forward and hilarious heroine, and as if that wasn't enough the greatest banter in the world. Velvet is about Caitlin who has just moved in with her aunt to Stony Creek and to her dismay attracted the attention of a demon. And for her safety is assigned a hot half-demon vampire bodyguard whose taken it upon himself to be her pretend boyfriend in order to protect her.
I simply loved Caitlin! Her flaws, her anger and sadness but most of all her growth throughout this book. Yes, in the beginning she was a bit rough around the edges but her mom just died and she's taken to live in a new place with people she's never met. Of course, she's angry and hurt but she doesn't wallow in self-pity. Caitlin may not be the most badass heroine out there but she is one tough and snarky chick which made me like her a lot. I loved her interactions with Adrian the most and just how upfront and honest she was with him.
Oh Adrian, what can I say about him that hasn't already been said before! He was sweet, smart, funny, nerdy and just downright swoon worthy. But he also had a lot of hurt in him because he's a half-demon vampire and there are rules against vampires being too friendly or even interacting with humans and he yearned for that so much. That's why when Caitlin came into his life, it gave him happiness and the friendship he'd been wanting for so long. They were hilarious together and really sweet but also awkward at times which I found completely endearing.
The romance between the two of them is slow, which I enjoyed. They became friends first and slowly started opening up to each other and just fell completely in love though they were both in denial of it at first. The banter between the two of them had me laughing out loud and I couldn't help but love them for that.
Suffice to say that I truly loved this book and cannot wait for the next one because there has to be one! I WANT MORE ADRIAN! And Caitlin, of course...
Rating: 4 stars