Dark Triumph (His Fair Assassin #2) by Robin LaFevers Review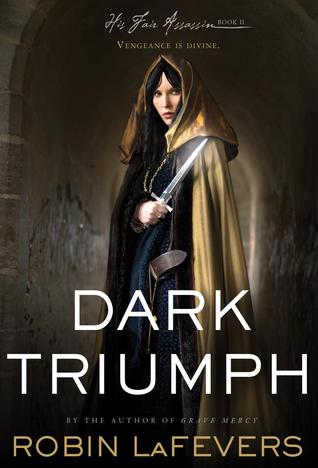 Series: His Fair Assassin #2
Publisher: Houghton Mifflin Books for Children
Genre: Young Adult, Fantasy, Historical Fiction, Romance, Adventure
Release Date: April 2, 2013
Pages: 385
Goodreads Summary
When Sybella arrived at the doorstep of St Mortain half mad with grief and despair the convent were only too happy to offer her refuge - but at a price. The sisters of this convent serve Death, and with Sybella naturally skilled in both the arts of death and seduction, she could become one of their most dangerous weapons.
But her assassin's skills are little comfort when the convent returns her to the life that nearly drove her mad. Her father's rage and brutality are terrifying, and her brother's love is equally monstrous. But when Sybella discovers an unexpected ally she discovers that a daughter of Death may find something other than vengeance to live for...
My Review
I loved Grave Mercy and I'm glad the second book was just as good! I knew that the D'Albrets household was horrible but I didn't know to what extent (since Grave Mercy was in Ismae's pov, so we don't have much insight). The things that Sybella endured were horrifying and in all honesty, I don't know how she still had her sanity (somewhat) intact. Her pain and fury seriously got to me, I wanted her to abandon that household just as much as she wanted to. But she was sent there by the convent and had no choice but to do what she was sent there to do....
Dark Triumph dives real deep into the heart of the D'Albrets household and we learn some really frightening and horrific things. There were times where I just wanted to drop this book and think about rainbows and unicorns but I couldn't. I was already so invested in Sybella's character that I had to know if she would escape and have the happiness and freedom, I know she craved and deserved. Sybella is afraid but she doesn't let that become her weakness, she's brave and so very loyal that I just couldn't help but love her. After all the disturbing and heartbreaking things we learn about her, I am completely honored to call her the most deadliest-kickass-heroine-assassin in the world.
The romance between her and Beast is so beautiful and sweet that it made me hug the book to my chest and smile. Both Beast and Sybella have gone through so much that they understand each other and can't help but fall in love. Beast is so stubborn and protective, that its no wonder Sybella is easily annoyed by him and yet....still manages to love him all the more for it. They totally complement each other!
The plot was fast-paced and had me at the edge of my seat. Although, it wasn't as political as Grave Mercy, it was still just as dangerous. Full of twists and turns and truly evil character's that I just wanted dead and other's that I had mixed feelings for. I don't want to spoil anything too big, so just go read this series if you haven't already. Especially if you're a historical fiction addict like me!
Rating: 4 stars