Firebug (Firebug #1) by Lish McBride Review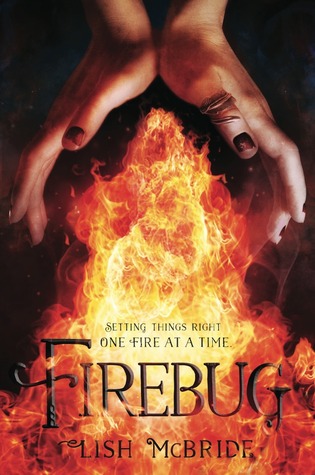 Series: Firebug #1
Publisher: Henry Holt and Co.(BYR)
Genre: Young Adult, Fantasy, Paranormal, Fiction
Release Date: September 23, 2014
Pages: 368
Goodreads Summary
Ava can start fires with her mind . . . but is it a blessing or a curse?
Ava is a firebug—she can start fires with her mind. Which would all be well and good if she weren't caught in a deadly contract with the Coterie, a magical mafia. She's one of their main hit men . . . and she doesn't like it one bit. Not least because her mother's death was ordered by Venus—who is now her boss.
When Venus asks Ava to kill a family friend, Ava rebels. She knows very well that you can't say no to the Coterie and expect to get away with it, though, so she and her friends hit the road, trying desperately to think of a way out of the mess they find themselves in. Preferably keeping the murder to a minimum.
My Review
(Beware: Review consists mostly of fangirling over characters.)
Firebug is about Ava a normal teenage girl except for the fact that she can start fires with her mind and is also a hit men for Venus the boss of the Coterie (a magical mafia) and the woman who killed her mother (okay so she's not so normal). Its no surprise that Ava hates Venus with a passion, apart from killing her mother Venus also makes Ava kill other creatures for a living. With no escape in sight, Ava does what she's told while hating herself for it. The only comfort she finds is in her two best friends Lock and Ezra who are also part of the Coterie and who became part of the reason why I loved this book!
Ava is an amazing heroine, although there were times when she aggravated me, I still loved her no matter what! I just couldn't bring myself to dislike her, she was snarky and very sarcastic about everything. And I don't blame her, she's had a crappy life but she still manages to care about her family and friends. She was smart, strong and such a caring person (most of the time) that she's definitely going into my list of favorite mc's.
I don't know about anyone else but I came to love this book a lot mostly because of Lock and Ezra. What? I have a thing for swoon-worthy boys and man did they make me swoon. And I'll be honest, I'm not so easy to be swept off my feet but these two fictional character's managed to do it! Lock is half human and half-dryad and my #1 book boyfriend, he's a mother hen to both Ezra and Ava. He's caring, sweet, honest and so compassionate that I just fell for him and if you don't love him, something's definitely wrong with you (kidding, maybe). And off two my second book boyfriend Ezra the most cocky, confident, narcissistic fox that I seem to have lost my heart to. Ezra is hot and isn't afraid to point that out in fact I lost count of how many times he complimented himself. And I just loved him for it, he made me laugh and blush so much throughout Firebug that now every time I think of him I chuckle (and think inappropriate thoughts).
The friendship between Ava, Lock, and Ezra is so amazing and realistic that I am so very jealous of Ava (yep I'm jealous of a fictional character, I've officially lost it). They would do anything to protect each other and I really loved that about them, the way they teased and picked on each other was also pretty hilarious. The interactions between the three of them always had me in stitches. I honestly loved their friendship so much! Best part of the book to be honest!
I know all I've talked about are the character's but it's just that I loved them so much and cannot emphasize it enough! Just go read Firebug, you won't regret it! It has everything a book should have a well-developed plot and character's, friendship, action, adventure, among other things that I can't name because my mind has gone blank. Just READ it!You know you want to......
Rating: 4 stars