The Glass Arrow by Kristen Simmons Review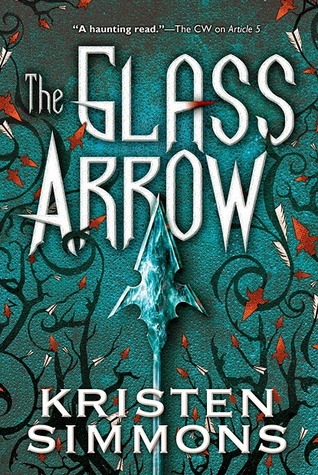 Publisher: Tor Teen
Genre: Young Adult, Science Fiction, Dystopia, Fantasy, Romance Adventure, Action
Release Date: February 10, 2015
Pages: 336
Goodreads Summary
The Handmaid's Tale
meets
Blood Red Road
in
Glass Arrow
, the story of Aya, who lives with a small group of women on the run from the men who hunt them, men who want to auction off breeding rights to the highest bidder.
In a world where females are scarce and are hunted, then bought and sold at market for their breeding rights, 15-year old Aya has learned how to hide. With a ragtag bunch of other women and girls, she has successfully avoided capture and eked out a nomadic but free existence in the mountains. But when Aya's luck runs out and she's caught by a group of businessmen on a hunting expedition, fighting to survive takes on a whole new meaning.
My Review
The beginning of The Glass Arrow throws you right into the story, you're transported into a world where woman are seen as nothing more than toys to be bought and thrown away. And where they're auctioned off to the highest bidder. In the middle of this cruel and unforgiving world is Aya who has escaped such a fate by living in the mountains, that is until she's captured.
Although, Aya is taken she doesn't just accept her fate she fights it so much and does whatever she can to stop herself from being auctioned. She's fierce and determined to gain her freedom and go back to the rest of her family, no matter the cost. I seriously felt for her, she was just such a well developed character and I just couldn't help but fall in love with her. I honest to god love her, I'm glad that throughout the story she doesn't lose sight of herself.
For the romance part of the book though there was some, it didn't consume the whole book which I was thankful for. I actually didn't want Aya to fall in love with anyone because I was scared it would ruin her character for me (sometimes it happens). But thank god it was just me thinking too much, I truly enjoyed Kiran's character just as much as Aya's he seemed secretive to me and I didn't quite trust him just like Aya but he grew on me. I liked how they slowly grew to trust each other little by little before becoming friends (and maybe something else ;). *Spoilerish* Before I go on I'd like to say a few words for Brax, Aya's loyal wolf whom I adored and cried for (yes I cried) and I won't say anything else except that I really love him. Why Simmons? Why? *cries*
As for the world building, it was pretty amazing and so was the plot it was pretty interesting seeing it unfold. I was never quite sure what was going to happen next, I had to put the book down a couple of times because it made me so nervous, I was so scared for Aya as well as the other characters. The only problem I had with it was that in this world where woman are bought and sold, they had all succumbed to such a fate except Aya I found that quite unbelievable but other than that, I truly loved this book.
This Glass Arrow is absolutely terrific and action-packed! You won't want to miss this one!
Rating: 4 stars