The Sin Eater's Daughter (The Sin Eater's Daughter #1) by Melinda Salisbury (ARC) Review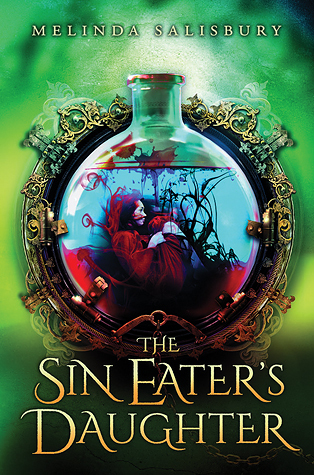 Series: The Sin Eater's Daughter #1
Publisher: Scholastic Press
Genre: Young Adult, Romance, High Fantasy, Paranormal
Release Date: February 24, 2015
Pages: 320
Goodreads Summary
Seventeen-year-old Twylla lives in the castle. But although she's engaged to the prince, Twylla isn't exactly a member of the court.
She's the executioner.
As the Goddess embodied, Twylla instantly kills anyone she touches. Each month she's taken to the prison and forced to lay her hands on those accused of treason. No one will ever love a girl with murder in her veins. Even the prince, whose royal blood supposedly makes him immune to Twylla's fatal touch, avoids her company.
But then a new guard arrives, a boy whose easy smile belies his deadly swordsmanship. And unlike the others, he's able to look past Twylla's executioner robes and see the girl, not the Goddess. Yet Twylla's been promised to the prince, and knows what happens to people who cross the queen.
However, a treasonous secret is the least of Twylla's problems. The queen has a plan to destroy her enemies, a plan that requires a stomach-churning, unthinkable sacrifice. Will Twylla do what it takes to protect her kingdom? Or will she abandon her duty in favor of a doomed love?
The Sin Eater's Daughter was much more magnificent than I had anticipated it was full of evil, murder, romance, high fantasy and a whole lot of horrifying deceptions and that is exactly what made this book such a captivating read. Melinda Salisbury's debut has definitely left a mark on me and I'm sure on other's as well.
Twylla the girl with the power that can kill was truly something to behold she was a different type of protagonist, one that I'm certainly not used to. At the beginning we never see her as much of anything except an obedient girl who followed the evil queen's rule. Naive and clueless or so we think, to me it seemed like she was shutting herself in trying not to question anything though she didn't always agree with who the queen ordered her to execute. Twylla wasn't very strong but she was clever, she knew that to disobey the queen meant death. She'd already seen how the queen's wrath looked like, it made even the strongest of men cower in fear. Her character growth throughout the book just added to the enjoyment, seeing her stand up and go against what she was told and not just believe in it made me like her although she did have a little help.
Lief her guard and love interest was amazing and lovable, he made Twylla come out of her shell and their romance is just too beautiful for words. I fell in love with Lief just as Twylla did and when he hurt, I hurt too. Twylla (and me) loved and trusted him and his smiles. And I still love him but that ending! I can't believe it no I won't believe it. The feelings they have for each other are so raw and real! I refuse to believe anything else.
Although there was a sort of love triangle, for me it didn't feel like one which was a first. It didn't feel like a regular love triangle because Twylla wasn't going back and forth between two guys. She knew all along whom she loved but knew she couldn't just leave the prince they were betrothed after all, she'd be dead and so would Lief. The romance was very swoon-worthy! The prince, I had mixed feelings about he always stated she was the only bride for him but I never got the sense that he truly loved her though he did care about her that much I knew.
The plot is definitely one you won't be expecting, it will make you think that you already know what's going to happen but then take a whole other direction.The twist and turns that happen will leave you wanting and breathless for more. The mystery and murder will have you flipping the pages unable to stop and by the end you'll just want to read it all over again! The ending will destroy you but then the epilogue will save you and then all you'll be able to think about is the sequel! No there is no cliffhanger but I still can't help but want the next book!
The Sin Eater's Daughter will take you on the ride of your life and leave you reeling!
Rating: 5 stars
I received this in exchange for an honest review through Edelweiss.