Spelled by Betsy Schow Review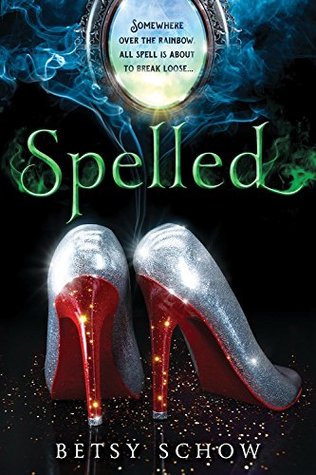 Publisher: Sourcebooks Fire
Genre: Young Adult, Fantasy, Retelling, Romance
Release Date: June 2, 2015
Pages: 352
Summary
Fairy Tale Survival Rule #32: If you find yourself at the mercy of a wicked witch, sing a romantic ballad and wait for your Prince Charming to save the day.

Yeah, no thanks. Dorthea is completely princed out. Sure being the crown princess of Emerald has its perks—like Glenda Original ball gowns and Hans Christian Louboutin heels. But a forced marriage to the brooding prince Kato is so not what Dorthea had in mind for her enchanted future.

Talk about unhappily ever after.

Trying to fix her prince problem by wishing on a (cursed) star royally backfires, leaving the kingdom in chaos and her parents stuck in some place called "Kansas." Now it's up to Dorthea and her pixed off prince to find the mysterious Wizard of Oz and undo the curse...before it releases the wickedest witch of all and spells The End for the world of Story.
My Review
Spelled is about Dorthea a spoiled-fashion-loving princess who is forced to marry someone whom she finds completely dreadful, so she decides to wish on a star that a stranger gave to her. Which lands her in heaps of trouble because now the fate of the kingdom rests on her hands and what's worse is that she's cursed herself. With no other option, Dorthea sets out on the journey of her life along with two unwilling companions, Prince Kato and Rexi, in order to break the curse and save her parents and hopefully her whole kingdom!
I have to be honest, I loved Dorthea! She was a selfish and bratty princess but against my better judgment, I came to love her. And yes she made some really stupid decisions but if she hadn't she never would have grown to be a somewhat decent princess or gone on a dangerous and hilarious journey. One that made her think twice before doing something she'd regret and also come to care for someone else other than herself and shoes. She had some serious character growth and some real inner struggles and that just made me love her even more.
The romance between Dorthea and Kato was really adorable and hilarious! I loved how they'd annoy each other on purpose or without even trying, it was so funny to read about. Even though technically Kato couldn't really talk since he was turned into a cute kitty because of Dorthea's wish (no wonder he hates her and no it's not a spoiler since this happens somewhat in the beginning of the book). But man could he insult her without even using his voice, he had some serious kitty power. Throughout their journey together they would fight so much but unknowingly slowly start caring about each other as well but even then they still had their moments! And of course I can't forget Rexi, the servant girl who wasn't afraid to talk back or put Dorthea in her place. I loved Rexi, she was really sarcastic and sassy and while she would argue with Dorthea a lot, she somehow wormed her way into Dorthea's heart and mine too.
Although I loved the romance a lot, I felt like the friendships in this book were even better! Regardless of how much they all hated each other at the beginning and how much they fought, at the end of the day they still cared for and rescued one another and that just made me love this book so much. (It was almost as beautiful as the friendships in Fairy Tail my favorite anime.) Whether they were fighting with each other or for each other they made me feel so many FEELS that I couldn't help but love them all!
Spelled is one book you don't want to miss! The character's, the friendships, the romance, they were all worth walking into a wall and tripping over my own two feet. For a retelling, it was pretty amazing although also a tad silly at times, especially with all the other fairy tale mash-ups that it made fun of which made me squirt water out of my nose. I enjoyed every minute of it and I'm definitely adding it to my re-read pile (when I make one, which should be really soon).
Rating:
4 stars
P.S. Don't drink anything while reading this book, especially if you don't want to choke or have it come out of your nose.