Sisters of Blood and Spirit by Kady Cross Review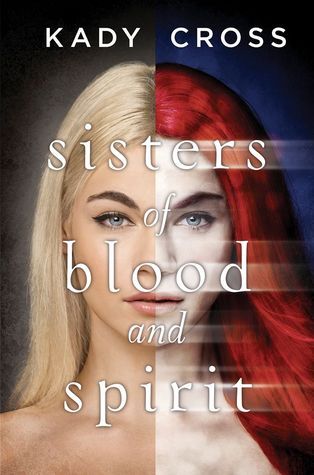 Series: Sisters of Blood and Spirit #1
Publisher: Harlequin Teen
Young Adult: Young Adult, Fantasy, Paranormal, Horror, Romance
Release Date: March 31, 2015
Pages: 288
Goodreads Summary
Wren Noble is dead—she was born that way. Vibrant, unlike other dead things, she craves those rare moments when her twin sister allows her to step inside her body and experience the world of the living.
Lark Noble is alive but often feels she belongs in the muted Shadow Lands—the realm of the dead. Known as the crazy girl who talks to her dead sister, she doesn't exactly fit in with the living, though a recent suicide attempt and time in a psych ward have proved to her she's not ready to join her sister in the afterlife.
Now the guy who saved Lark's life needs her to repay the favor. He and his friends have been marked for death by the malevolent spirit of a vicious and long-dead serial killer, and the twins—who should know better than to mess with the dead—may be their only hope of staying alive
.
My Review
Sisters of Blood and Spirit is about two twin sisters, Wren and Lark who don't have it easy. Why? Because Wren is dead and Lark is alive but they share her body. Which sounds seriously insane and that's exactly why she doesn't exactly fit in. They are as different as night and day and yet I couldn't help but like them both. Their relationship isn't an easy one but they make it work and they really care about each other a lot. And sure they do have their issues but they always confide in one another and it was very refreshing to see.
The romance part of the story felt forced, and that's why I was a bit glad that it wasn't of any importance to the plot line. I preferred reading about Lark and Wren and even the evil ghost rather than the romance they both had, I honestly can't even remember the name's of the boys both of them loved or even the other character's. And that brings me to the next part of the book that dissappointed me, the supporting character's. I mean sure they were kind and funny (and in serious danger) but that's all they were, they only showed up when something bad was happening and when that was over just disappeared and I'd forget who was who and it didn't help that there was 4 or 5 of them. I think...
I will admit that although the side character's were bland, I did enjoy the plot. It was fast paced and kept me curious over how it would end and if Wren and Lark would find out about their family history.
Sisters of Blood and Spirit is a super chilling ghost story with two awesome ghost hunting-and-human-saving twin sisters, so if that's what you're looking for then I say give this one a try.
Rating: 3 stars