Ruby Red (Precious Stone Trilogy #1) by Kerstin Gier Review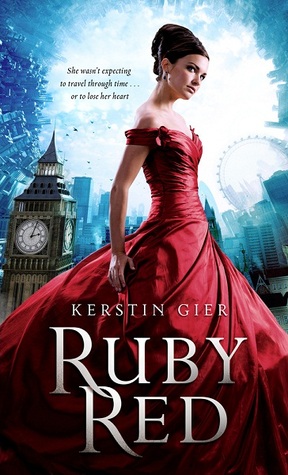 Series: Precious Stone Trilogy #1
Publisher: Henry Holt
Genre: Young Adult, Fantasy, Time Travel, Historical Fiction, Romance
Release Date: May 10, 2011
Pages: 336
Goodreads Summary
Sixteen-year-old Gwen lives with her extended - and rather eccentric - family in an exclusive London neighborhood. In spite of her ancestors' peculiar history, she's had a relatively normal life so far. The time-traveling gene that runs like a secret thread through the female half of the family is supposed to have skipped over Gwen, so she hasn't been introduced to "the mysteries," and can spend her time hanging out with her best friend, Lesly. It comes as an unwelcome surprise when she starts taking sudden, uncontrolled leaps into the past.
She's totally unprepared for time travel, not to mention all that comes with it: fancy clothes, archaic manners, a mysterious secret society, and Gideon, her time-traveling counterpart. He's obnoxious, a know-it-all, and possibly the best-looking guy she's seen in any century . . . .
I finally got around to reading Ruby Red and I'm sorry to say, I was a bit disappointed. Although, it did keep my interest I don't think I'll be continuing this series. I like time travel books and I enjoyed that aspect of this book but the rest not so much.
Gwen is just a normal 16 year old girl that is until she finds out that instead of her perfect and beautiful cousin Charlotte she has the
time travel gene in this generation of her family. She's scared and feels overwhelmed by this and that's understandable. After all she hasn't had the training that her cousin has had. At the beginning I didn't quite enjoy Gwen's character, it wasn't until I got halfway through the book that she grew on me.
As for Gideon her love interest, I simply couldn't stand him. He was arrogant and loved to push Gwen around a lot, which just annoyed me but at least Gwen didn't do as she was told (thank god). Yes, I get that he's handsome with vibrant green eyes and shoulder length hair but god he irritated me and it wasn't until close to the end that he redeemed himself but even then....
I enjoyed the time traveling and the secrets and how Gwen didn't know who to trust, I always love a good secret or secrets in this case. Though I would like to have known more about Paul and Lucy because they were talked about a lot and yet we never really got to know them. What I really disliked was the ending! It left me feeling confused, I finally got so invested and then.....it just cuts off and ends suddenly. It made no sense to me and I'm not sure if I'll continue.
Rating: 3 stars