Grave Mercy (His Fair Assassin #1) by Robin LaFevers Review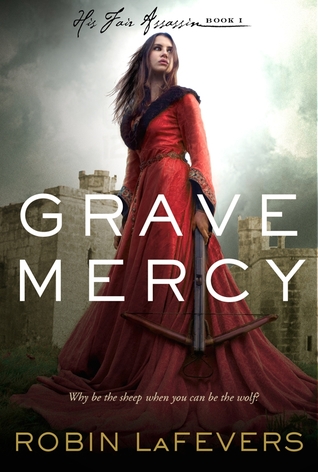 Series: His Fair Assassin #1
Publisher: Houghton Mifflin Harcourt
Genre: Young Adult, Fantasy, Historical Fiction, Romance, Adventure, Paranormal
Release Date: April 3, 2012
Pages: 549
Goodreads Summary
Why be the sheep, when you can be the wolf?
Seventeen-year-old Ismae escapes from the brutality of an arranged marriage into the sanctuary of the convent of St. Mortain, where the sisters still serve the gods of old. Here she learns that the god of Death Himself has blessed her with dangerous gifts—and a violent destiny. If she chooses to stay at the convent, she will be trained as an assassin and serve as a handmaiden to Death. To claim her new life, she must destroy the lives of others.
Ismae's most important assignment takes her straight into the high court of Brittany—where she finds herself woefully under prepared—not only for the deadly games of intrigue and treason, but for the impossible choices she must make. For how can she deliver Death's vengeance upon a target who, against her will, has stolen her heart?
My Review
Grave Mercy was a compelling read! I devoured it in less than two days, I would have finished it in one but there's this thing we humans need called sleep. Simply put, I fell in love with this book! More than I actually thought I would. I wasn't sure at first but I'm glad I finally decided to read it because it was truly amazing. It had mystery, betrayal, suspense, romance, action, and adventure all the genre's I love and I'm glad I had a chance to read it!
Ismae is treated as nothing more than an object at the hands of men. Beginning from her father to the man she was to wed, Guillo a pig farmer whose no better than her abusive father. But before Guillo can consummate the marriage, Ismae is taken to a convent. This isn't just any convent though, it's a convent dedicated to serving the Saint of Death. Where the daughter's of death are trained in the arts of killing. And Ismae is one of them and she is given the choice to become one and of course she chooses to train after all she's been treated horribly her whole life. After she's perfected the skills to be Death's assassin, she's sent on her biggest mission yet, to pretend to be Gavriel Duval's mistress and find out if he's the traitor sent by the French. Ismae thinks this is going to be easy just find out the truth and kill him after all this is her 3rd kill and the convent sister's are never wrong. But to her dismay it isn't that easy......
I was completely enraptured by this book and I understand that in the beginning other's found it to be a bit slow paced and although I'm not saying that's not true. For me I found it captivating because were not just thrown into the story were slowly introduced to it and I loved that! We learn new things just like Ismae does and come to understand them. We are also just as clueless as she is as to whose pulling the strings behind the things that are happening and who the traitor really is.
Ismae and Duval were the perfect match! They were both clever and didn't trust too easily which is why they disliked each other at first. I know what a great relationship, right? But that's what made them such amazing character's. And although Duval at times could be a bit harsh and Ismae was really kind too, they had that spark that made them such a wonderful couple. Though, Ismae had her doubts after all she thought he was the traitor but soon saw that he cared far too much for his sister the Duchess to ever cause her any harm. I loved seeing Ismae grow to trust and love Duval!
Grave Mercy made me realize why I love reading historical fiction books! I love it when a book's full of intrigue, politics, mystery, and romance. I love reading about the things that happen in a high court, the deceit and pawns just intrigue me. And I seriously need to get my hands on the sequel, Dark Triumph!
If you love historical fiction, fantasy, and romance then you need to read this book ASAP!