Evil Librarian by Michelle Knudsen Review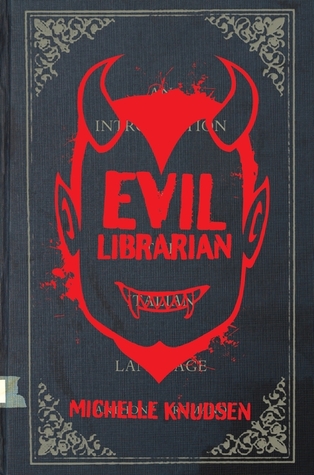 Goodreads
|
Amazon
Publisher: Candlewick Press
Genre: Young Adult, Paranormal, Romance, Fantasy, Humor
Release Date: September 9, 2014
Pages: 343

First can I just state how much I loved reading Cyn's inner monologue. She never failed to make me laugh and that seriously made me love her as a character. What I also liked about her was how she actually seemed like a genuine teenager what with all the angst that she went through and her crush on Ryan was believable.

I completely lover their interactions with each other. I even dare say I started crushing on Ryan too. They brought out the best in each other, and I couldn't help but blush whenever Cyn imagined herself just jumping his bones when he was around. The romance was just freaking sweet and adorable.



As for the Demon librarian in her school can I just say how I found it hilarious how he called her a super roach. That totally made me laugh and for a demon villain I sort of liked him in a morbid kind of way. Maybe its just that i'm weird aah well....





Anyways, I totally loved this book and the ending. Oh god the ending, I totally had my own little 5 minute fan girling over it.
This was so me....just a female version....of course..*insert laughing*
Goodreads Summary
#EvilLibrarian He's young. He's hot. He's also evil. He's . . . the librarian.
When Cynthia Rothschild's best friend, Annie, falls head over heels for the new high-school librarian, Cyn can totally see why. He's really young and super cute and thinks Annie would make an excellent library monitor. But after meeting Mr. Gabriel, Cyn realizes something isn't quite right. Maybe it's the creepy look in the librarian's eyes, or the weird feeling Cyn gets whenever she's around him. Before long Cyn realizes that Mr. Gabriel is, in fact . . . a demon. Now, in addition to saving the school musical from technical disaster and trying not to make a fool of herself with her own hopeless crush, Cyn has to save her best friend from the clutches of the evil librarian, who also seems to be slowly sucking the life force out of the entire student body! From best-selling author Michelle Knudsen, here is the perfect novel for teens who like their horror served up with a bit of romance, plenty of humor, and some pretty hot guys (of both the good and evil variety).