Together With You by Victoria Bylin Review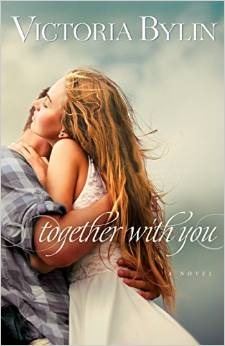 Publisher: Bethany House Publishers
Genre: Christian Fiction, Contemporary, Clean Romance
Release Date: April 7, 2015
Pages: 336
Goodreads Summary
A Tender Contemporary Romance about Finding Unexpected Love
When a Lost Child warning blasts over the mall's PA system, toy store manager Carly Mason finds the little girl playing with a stuffed rabbit. Something about five-year-old Penny Tremaine is different. An ex-social worker, Carly recognizes that Penny suffers fetal alcohol effects, and a piece of Carly's own past suddenly confronts her. Never again will Carly become involved with a client. The risks are far too great. But something about Penny--and Penny's handsome father--tugs at Carly's heart. Before she has time to think it through, she agrees to a much-needed job as a nanny.
Dr. Ryan Tremaine knows he messed up his life. But this summer he will redeem himself. With his ex-wife remarried and on a trip far away, his two teenage sons and Penny are living under his roof full time. Ryan is dedicated to his sink-or-swim list, a plan to reconnect with his children. The first step: recruiting Carly Mason to be Penny's nanny.
Ryan never anticipated being so drawn to Carly, an attraction Carly seems to fight as much as he does. Could Carly be the missing piece that helps his family stay afloat, or will their blossoming romance only complicate things further?
My Review
Together With You is a wonderful and quite heart warming read, and I enjoyed reading it. Not only does this book have a well done romance but it's also about family issues, guilt and regrets. Something I'm sure everyone has gone through. It manages to pull at your heartstrings which is what I look for in a book.
Dr. Ryan Tremaine knows all about mistakes and regrets but doesn't believe he can obtain forgiveness. So, when he hires Carly Mason as a nanny he's not expecting to fall in love....But neither is Carly because she has made mistakes as well and its weighing on her conscience. I loved reading about Ryan and Carly, and I couldn't help but want them both to be happy. I also loved seeing them slowly open up to each other.
I loved the interactions between Carly and the Tremaine family! I liked how Carly's presence helped Ryan reconnect with his kids. It was beautiful seeing them become a real family and struggle together. You know a books good when it makes you laugh along with the character's.
Another thing I like about this book was how there were debates between those who believed in God and those who didn't. Which I rarely see in Christian books, I liked seeing both sides of the picture it was quite engrossing and I would have like to read more about it. Though I was quite disappointed with the ending, it was still enjoyable nonetheless.
Rating: 3.5 stars
I received this book in exchange for an honest review through Bethany House Publishers.